St. Jo's @ Gurney Paragon Mall x Ming Fine Art
Date: 11 August 2020
Media Source: GurneyParagonMall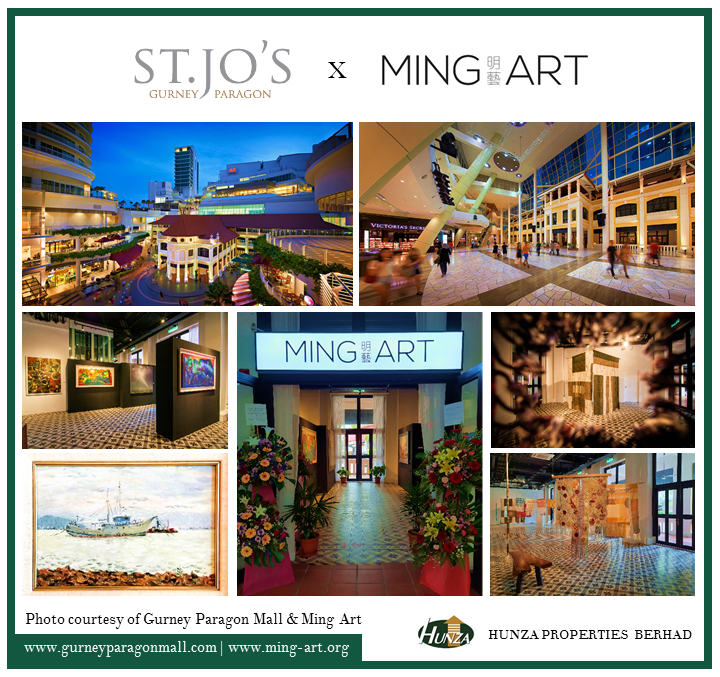 On 8 August 2020, the halls in St. Jo's @ Gurney Paragon Mall were enliven once again with the opening of Ming Fine Art, a private gallery showcasing exquisite and unique art pieces from around the world. Founded in 2015, the gallery has hosted numerous exhibitions and has established itself as a prominent name in Penang's growing art circle.

The introduction of a long-term art space in St. Jo's is apt in the narrative of a heritage institution, as the value of both art and heritage grow with the passing of time. St. Jo's was built in 1916 as a novitiate for the Christian brothers until 1988 when it was converted into an international school. After its restoration by Hunza Group, the doors were reopened to the public in 2012 and the building itself went on to win the prestigious FIABCI World Prix D'Excellence Award 2014. Over the years, St. Jo's has played venue to a number of art exhibitions and showcases from both local and international artists – including the celebrated Penang Fashion Week.

In conjunction with the opening of Ming Fine Art at St. Jo's, the gallery also contributed its space to present a solo exhibition by the Ms. Iona Danald, the grand prize winner of Spotlight 2019, an annual art competition by Penang Arts District. With the title show of "AYE: Across Sarawak and Scotland", the exhibition presents collections which reflect the narrative of the artist's mixed heritage and cultural upbringing in Malaysia and Scotland. It runs from 8 August 2020 – 8 September 2020 in the space adjacent to Ming Fine Art's permanent collection exhibition space, and admission is free.

Visitors and shoppers will be delighted to know that this is just the beginning to the revitalization of space in St. Jo's @ Gurney Paragon Mall. With distinctive line-ups in the pipeline for people of different interests, it will continue to provide a unique retail experience unlike any other in Malaysia. Gurney Paragon Mall and St. Jo's await you here in Penang.

For more information, please check out our website at www.gurneyparagonmall.com or our Facebook page at www.facebook.com/gurneyparagon.