Our Story
One of Malaysia's leading property developers, Hunza Properties Berhad is recognized for its exemplary portfolio of residential and commercial projects.
The Group's esteemed reputation stems from its uncompromising standards of quality and commitment to doing things "RIGHT", the core to our values.
Founded by Dato Seri' Khor Teng Tong, a veteran entrepreneur with astute vision, Hunza Group has established a reputable name in the property development and property investment. As a front runner of property market especially the Northern Malaysia, HPB's portfolio spans integrated townships, commercial developments, mid to high end property. Its development has contributed our international presence and transformation of skylines in the country.
The Management Team of HPB is headed by Group Managing Director Dato' Khor Siang Gin and the Executive Directors team comprising Ms Khor San Leng, Ms Khor Tze Ming, Ms Lee Kooi Foon and Ms Tan Siew Feng. The members of Management Team consists of individuals with diverse sets of skills, knowledge and experiences in their career, which allow our Group to build a strong team that serves the Group as well as our customers beyond their expectations.
Naming after Hunza Valley, a beautiful place in Northern Pakistan, our strength is found through the spirit of dynamism and self-sustaining attitudes. More than just resemblance by its name, our story is defined by a team of warm and diligent people working together intelligently, to lead transformation and create value successes.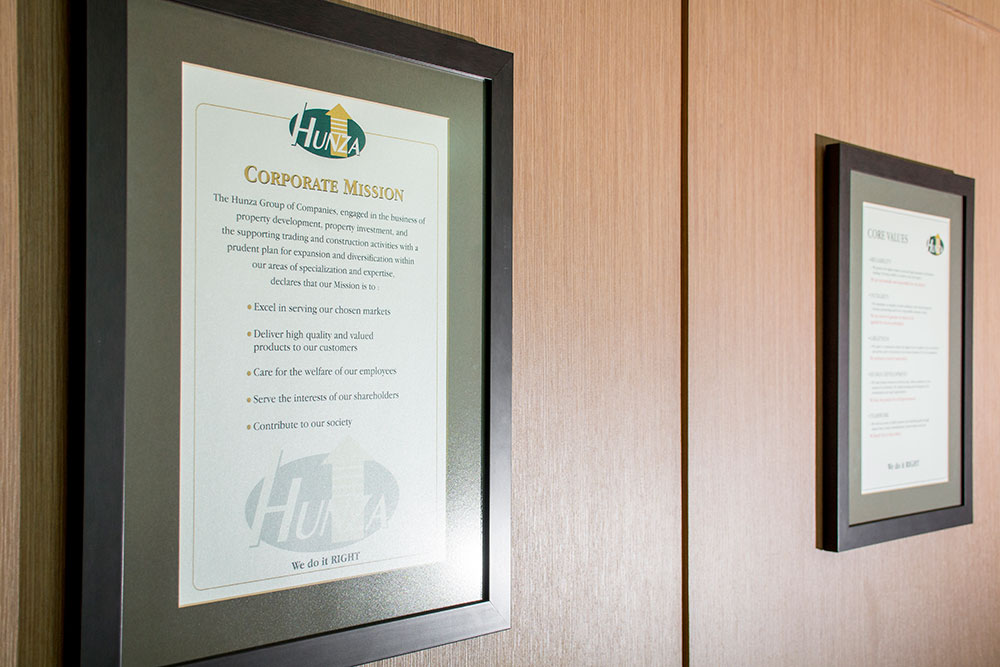 Corporate Mission
Hunza Properties Group of companies being engaged in property related industries, is committed to prudent expansion within our areas of specialisation and expertise, and declare that it is our mission to:
Excel in serving our chosen markets




Deliver high-quality and valued products to our customers




Care for the welfare of our employees




Serve the interest of our shareholders




Contribute to society

Core Values
Reliability
Hunza practises the highest ethical, social and legal standards in all business dealings. By being reliable, we achieve trust and respect.
Integrity
Hunza emphasizes on integrity to build confidence and cement long term business partnerships and to be a responsible corporate citizen.
Greatness
We aspire to consistently achieve the highest level of quality in all our products and services and to be premier in our chosen business. We aim for greatness.
Human Development
Hunza values human resources as the key asset which contributes to the success of our business. We commit to training and development, fair remuneration and equal opportunities.
Teamwork
Hunza works as a team to fulfill corporate and individual goals through shared vision, sound communication, mutual trust and respect.