Gurney Paragon Mall Serves As PPVIN for Retail Front Liners
Date: 17 August 2021
Media Source: Hunza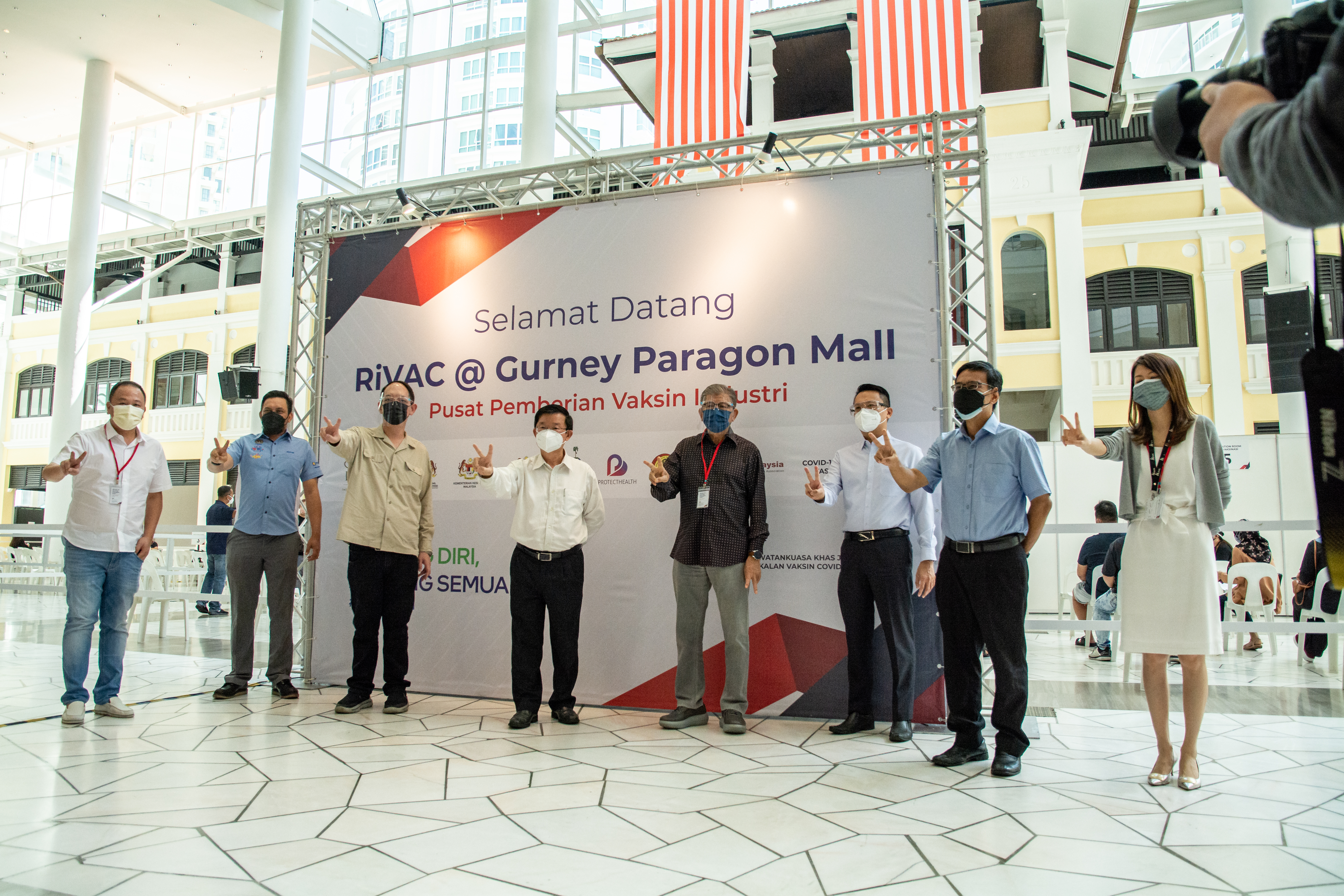 Gurney Paragon Mall Serves As PPVIN for Retail Front Liners 17 Aug 2021
Gurney Paragon Mall has converted the atrium and a section of their century-old heritage building, St. Jo's into a vaccination centre after it has been confirmed by the Ministry of Domestic Trade and Consumer Affairs (MDTCA) and Covid-19 Immunisation Task Force (CITF) under the Ministry of Science, Technology and Innovation (MOSTI) as one of the PPVIN (Pusat Pemberian Vaksin Industri) in the northern region under the Retail Industry Vaccination (RiVAC) program.
It is offered to employees working in shopping malls and also retailers in the northern region registered under RiVAC. A total of 6,000 doses of vaccine will be allocated to this PPVIN to ramp up inoculation for retail employees.
This joint public – private collaboration effort between the retail industry and the government aims to expedite the National Covid-19 Immunisation Programme and to ensure a return to normality for the retail and shopping mall industry.
The vaccination will be carried out in 2 different periods with the first dose to be administered from 16th – 20th August 2021 followed by the second dose from 6th – 10th September 2021.
"The Covid-19 pandemic has impacted shopping malls and the retailers, especially with the imposed MCO and strict SOPs. We welcome the initiative and are keen to play our part in the national vaccination programme by encouraging our tenants, the business associates and other retailers to take part in the vaccination drive, while moving forward towards the recovery of the economy and retail sectors."
"This will definitely help to accelerate the vaccination efforts that will eventually benefit the cause of 'breaking the chain', and also to provide a safe and secure working environment for the employees," said Ms. Khor Tze Ming, Hunza Group's Executive Director when asked about the initiative.
In support of the said program, Gurney Paragon Mall will be giving out free Gurney Paragon Card membership, RM10 Gurney Paragon cash vouchers and a pack of exclusive face masks to individuals who will be having their vaccination in the mall.
With the RiVAC taking place, and the sooner everyone in the retail front line is vaccinated, the better chance there is for all the retail outlets to re-open earlier.
For more information, please contact:
Mr. Kester Hok Selene Yeap
Senior MARCOM Executive MARCOM Asst. Manager
016-476 7744 016-482 6889